A lot of famous YouTubers are doing Q&A video at least once. Although I'm far away from a big YouTuber, I get a lot of questions about me. I've been always underdog in my childhood and nobody cared about me. So, whether the question is stupid or not, the fact they're asking about me makes me feel amazed and grateful.
Obviously, I can't answer to every question I got from viewers, so I'm gonna reply to the most common questions I often get recently.
1. Are You Single?
Yes..
I know you feel weird about this. My channel is about "dating" in Japan. A lot of people are saying to me, "How could someone who doesn't have much experience of dating make videos about dating in Japan?"
Here is the thing.
Although I don't have much experience, I used to date a Korean girl before. As someone who dated a girl who is a different culture and language in a different country, there are so many things I can tell you. I believe that the experience of international dating is useful and informative for the viewers.
I don't know why, but it seems like so many people have a problem about the fact I'm still single and asking like, "Is there some problem with you?", "Maybe you are gay?".
Let me make this clear.
My channel is all about helping foreigners interact with Japanese and find the love in Japan eventually. It's NOT about me. I'm not making YouTube for the purpose of dating someone. (Think about it. If I wanted to have a girlfriend, I would just spend my time for going out or searching online-dating rather than making YouTube videos.)
For you, it's totally doesn't matter whether I'm single or not. Who cares?
I want you to only care about how you're gonna find the one. Don't worry about me. It's not your business.
I'm personally 100% OK. I'm just happy with being single.
But, for those who are not so happy with being single in Japan, I've been making videos.
2. Are You Still Virgin?
This is the most common question I often get recently.
Come on..How could you ask someone such a nasty question..
But, it's obviously my fault. The reason I often get this question is that because I've uploaded the video below. (What Japanese Girls Think About Virgin Guys)
Am I still virgin? Sorry, I can't answer this question. I just don't want to do.
OK, let's assume I'm still virgin. So What? What's the point?
That means I suck as a human being?
Many people say that a virgin guy is loser or horrible as a man.
I'm really sad that they're so narrow minded..
It doesn't matter if you're virgin or not! We're all human being.
(The only reason I make videos about virgin is, just because I get questions and request about virgin from viewers. That's it.)
3. What's your hobby?
Thank you so much for the harmless question!
I've always loved running since childhood. It's just refreshing and relaxing for me.
Running is not exercise for me, but it's kind of a meditation. I love it so much more than anything.
4. What's your current job?
I've just became a Japanese teacher recently from a web designer.
This was really difficult decision for me, because I loved the previous job so much.
But, in the end, I have no regret and am extremely passionate about my career. Because I strongly believe that Japanese skill will improve every single aspect of your life in Japan.
5. When did you start learning English?
We study English from early age in school, but never actually use and just study for academic purpose. I really hated English and skipped every English class in school.
But I've started learning English "seriously" when I was junior in college. Until that time, I could never have a single conversation in English. (I'm talking about that in NOBI LESSON.)
6. Which one would you prefer, Japanese women or Foreign women?
I have no idea.
Honestly, I can't even identify who is Japanese or foreigner nowadays.
I think she's Japanese and talk to her in Japanese, but so often she's actually non-Japanese. This actually happens to me all the time in Tokyo.
Because of that, I stop guessing and caring where they're from in the first place. Only when I do street interview, I have to ask them the nationality after the conversation to put the flag on the video though. But, usually I don't even ask them where they're from. It doesn't even matter to me.
So, I just don't know which one I prefer. I have no idea what is my preference. I guess I just like all women.
7. How do you usually come up with ideas of videos?
Mostly from my audience. They're giving me many suggestions they want me to ask native Japanese people. And I just pick up some of them which seem appropriate to ask Japanese people.
But sometimes, I just go ask stupid questions with No reason. I just say whatever comes up in my mind at that time. Sounds crazy, but it works almost every time.
8. What's the biggest difficult part of street interview in Tokyo?
Many people assume I'm picking up girls or just crazy creepy guy, and walk away immediately. Sometimes, they yell me like, "Such a Nerd! Fuck Off!", and I used to feel so shitty.
But I don't care anymore. I feel nothing whatever harsh word I got, because now I'm very used to get rejected.
I would say the biggest difficult part is that I become too nervous to talk with hot girls. When I talk with beautiful women, I still get a big nervous and sometimes can't open my mouth.
9. How do you see yourself in 5 years?
Hopefully, I'm doing great and improving my teaching skill as a Japanese teacher with a lot of experience.
I'm not sure I'm still making YouTube at that time, but hopefully I'm still doing and helping people find the love in Japan.
Sometimes, I wish I could get married to a beautiful sweet girl and had a kid, but obviously it won't happen to me. Unfortunately, I'm always too busy for my job and making YouTube.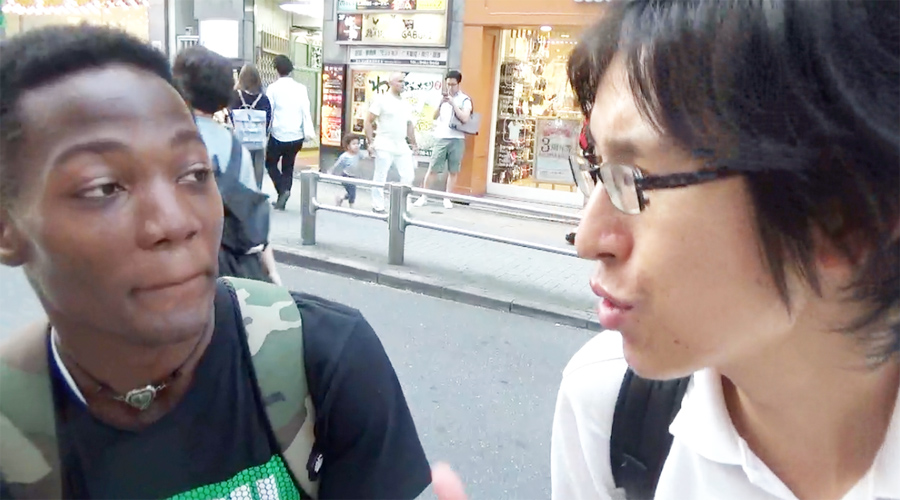 ---
Thank you so much for getting interested in me and asking questions, guys!!
I'm not sure how many people actually read this post to the end though. But I'd be super glad if you're still reading this.
Many people say I'm totally different from a typical Japanese person. But in reality, there is No typical in Japan and everyone is different and unique. I'm just one of them.
If you want to get to know more about Japanese people, I highly recommend you to "actually" talk with Japanese people. You can't understand us by just watching on YouTube. It's just more than that.
Don't worry, you can definitely improve and eventually become fluent in Japanese if you take my online course and follow my advice.
Trust me, you couldn't find any more passionate online course like that anywhere!
– Nobita
PS.
Do you have more questions about me? Feel free to ask me! I'd happy to answer that as long as it's not nasty. Also, if you have any suggestion of my future video, let me know! I'll consider that at least and do my best to make it happen.